Just a thought!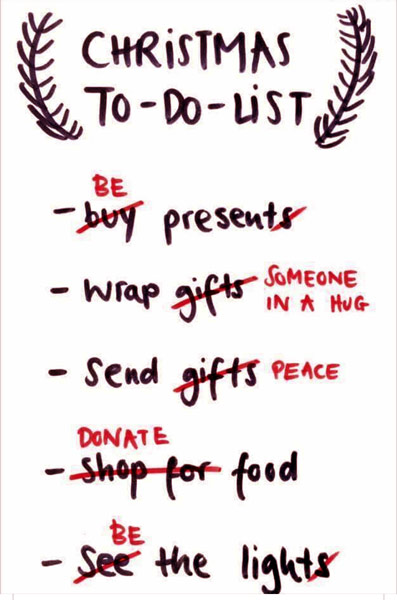 Christmas Day
With a congregation of approximately 90, Christmas Day at St Martins was indeed a joyful celebration of the birth of Christ. It was good to greet old friends again on such a significant day in the Christian year. The culmination of the lighting of the Advent candles with wreath meditations along with the singing of joyous Christmas Carols, set everyone in good steed for the day of family celebration ahead.
Over the Christmas period of Advent, we celebrated HOPE, PEACE, JOY and LOVE and finally on Christmas Day the anniversary of the birth of CHRIST.
The "empty" Christmas Tree
On Sunday 9th December we had an "empty" Christmas Tree as part of our children centric family service. The congregation brought unwrapped gifts to place around the tree during the service. These were passed on to Family Life for distribution to families experiencing difficulty at this time. We are grateful for the generosity of our congregation and Family Life were delighted with our donations, which were distributed to some of the 100 needy families they look after in the area.
The traditional family children's christmas service was packed full of creative activites. There was children's Christmas story time and plenty of carols which were enthusiastically played along to with percussion instruments of all types, in addition we had a "Time of Creativity" at a choice of 6 Activity Stations.
One group dressed up accordingly then practised a re-enactment of the Nativity (Telling the Story), which was later performed as part of the service once we had re-gathered – to the delight of the congregation. A special highlight was our minister Scott, as a donkey – complete with phone braying noises! Meanwhile others sang Favourite Carols, or made Advent Chains and some made clever Advent Wreaths from their hand cutouts. One group spent their time "Mapping The Journey" while in the Reflective Space others were kept busy colouring in Christmas Scenes. The congregation moved between activities and the smiles on their faces reflected their enjoyment of this special service.
>> View the photographs of the Children's Christmas Service 2018

>> Download Flyer for Children's Christmas Service 2018

>> Family Life Christmas Appeal 2018

>> Beaumaris Community Carols by Candlelight 2018